Join the CompTIA Instructor Network as we welcome Allen Stubblefield who will lead our A+ Core 2 220-1102 TTT series. The series will consist of 10 sessions covering the A+ Core 2 exam domains. Allen will teach the key technology concepts covered on the exam as well as hands-on activities.
We will also discuss instructional strategy for presenting the concepts to students and best practices for implementing a A+ course.
CompTIA A+ certified professionals are proven problem solvers. They support today's core technologies from security to cloud to data management and more. CompTIA A+ is the industry standard for launching IT careers into today's digital world.
The only credential with performance-based items to prove pros can think on their feet to perform critical IT support tasks in the moment
Trusted by employers around the world to identify the go-to person in end point management & technical support roles
Regularly re-invented by IT experts to ensure that it validates core skills and abilities demanded in the workplace
What:
10 session webinar series
When:
Begins Tuesday, May 15, 2022
Where:
ON24
Who:
Allen Stubblefield
Register Here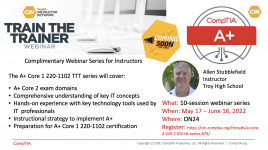 Last edited: